AN OFFICIAL COLLABORATION BETWEEN
PAMP x IF AND CO.
A FIRST COLLABORATION OF ITS KIND. OWN A PIECE OF HISTORY.
IF AND CO. partners with PAMP SA, the largest independent gold bullion makers in the world.
A COLLABORATION BY GLOBALLY-RENOWNED PAMP SA WITH ANY JEWELERS FOR GOLD BULLION PRODUCT, WHETHER COLLECTIBLE OR NOT, HAS NEVER EXISTED...
UNTIL NOW.
"Fortune favors the GOLD."
EMBRACE OPPORTUNITIES THAT PRESENT THEMSELVES TO YOU AND KNOW WHEN THEY ARE TRULY SPECIAL BEFORE ACTING ON THEM.
THE RIGHT OPPORTUNITY MAY NEVER COME AGAIN.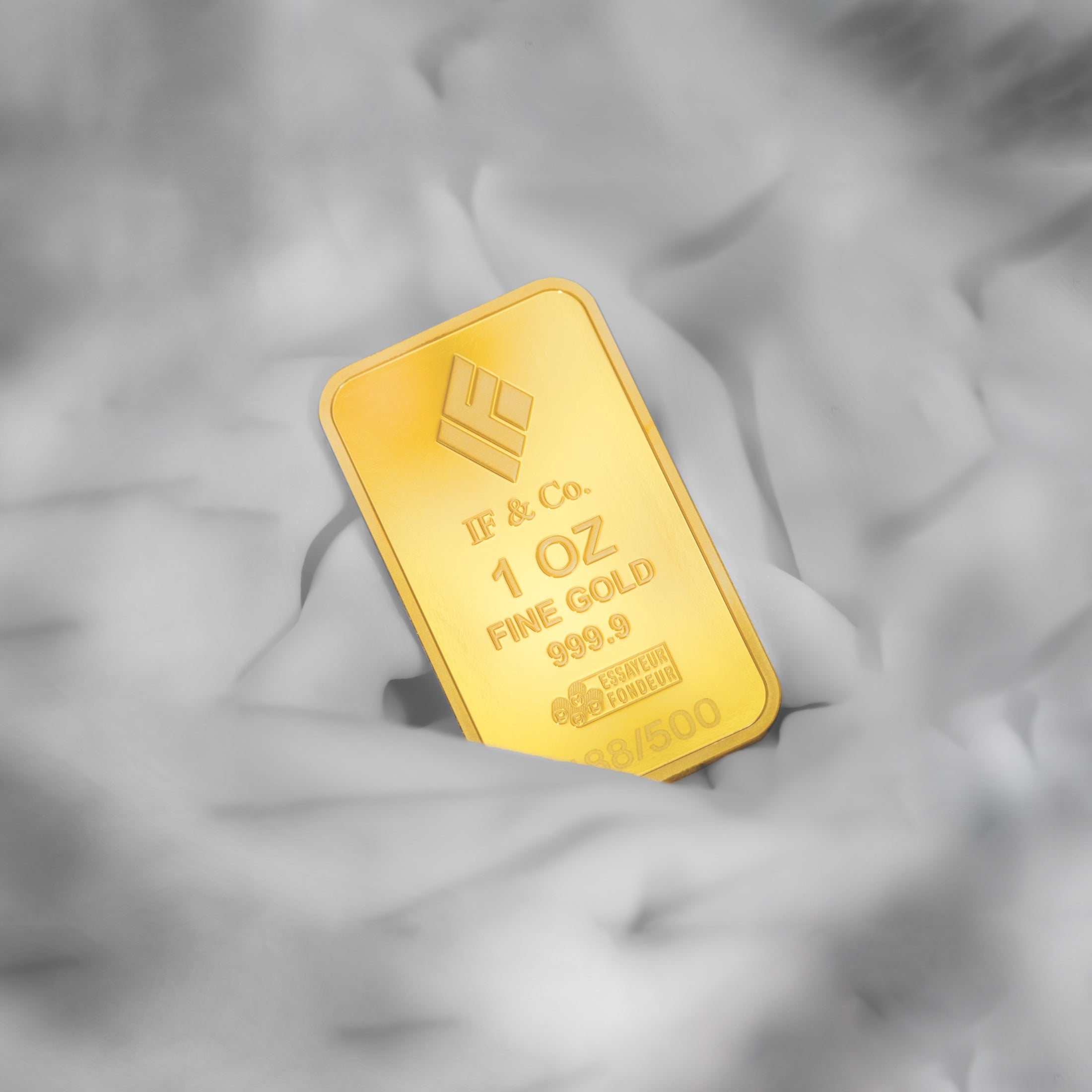 AN OUNCE OF PURE GOLD NEVER LOOKED THIS FINE...
EACH 24-KARAT GOLD BAR IN THIS REMARKABLE LIMITED EDITION SERIES IS A GOLDEN MASTERPIECE, METICULOUSLY FORGED TO PERFECTION TO SHARE A VERY SPECIAL STORY.
WEALTH IN PUREST FORM
GOLD AS YOU KNOW IT, JUST NOT HOW YOU'VE HELD IT.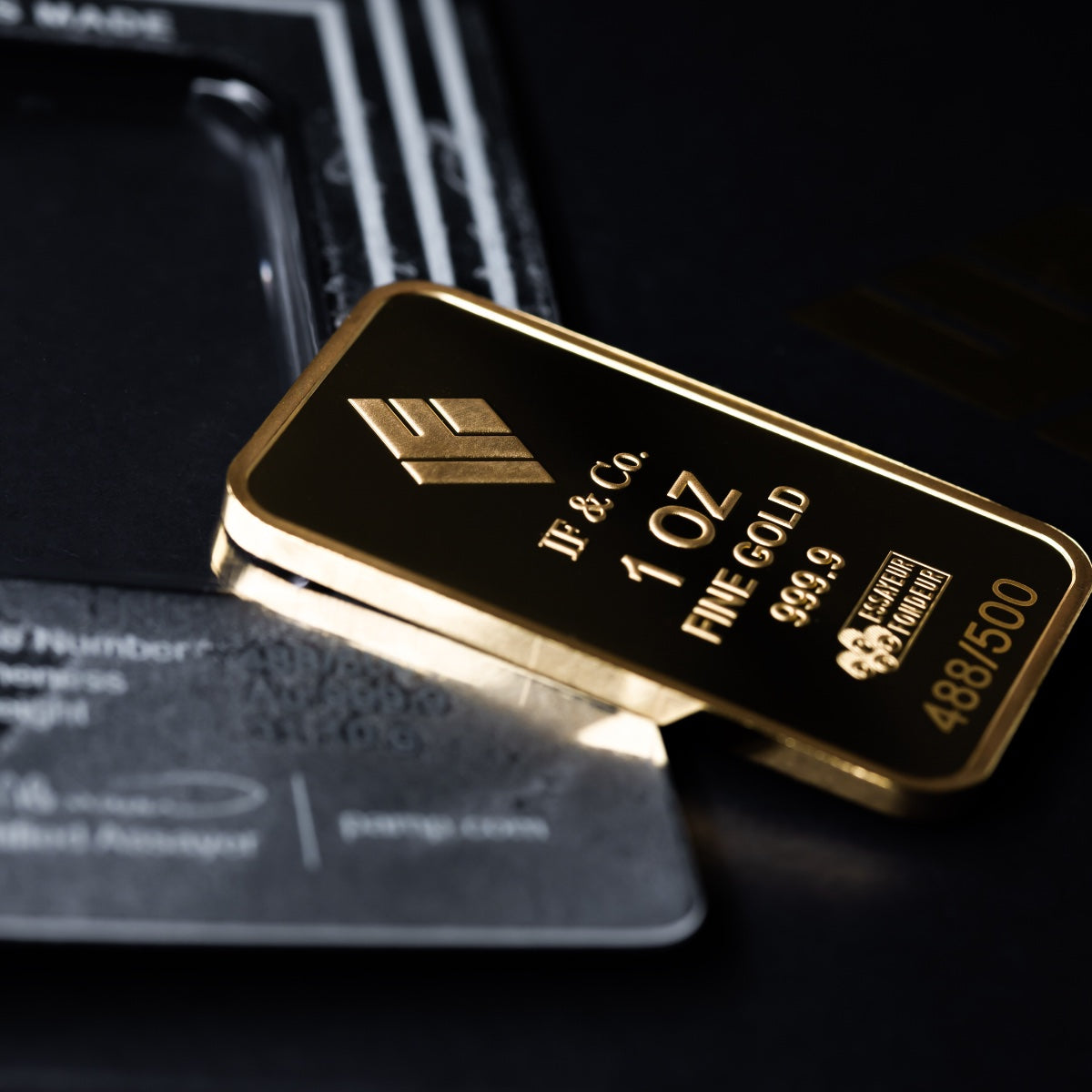 LIMITED. EXCLUSIVE.
ONLY 500 BARS HAVE BEEN CREATED. EACH BAR IS UNIQUELY NUMBERED. WHEN YOU OWN ONE, YOU'LL HAVE A SPECIAL PIECE OF HISTORY.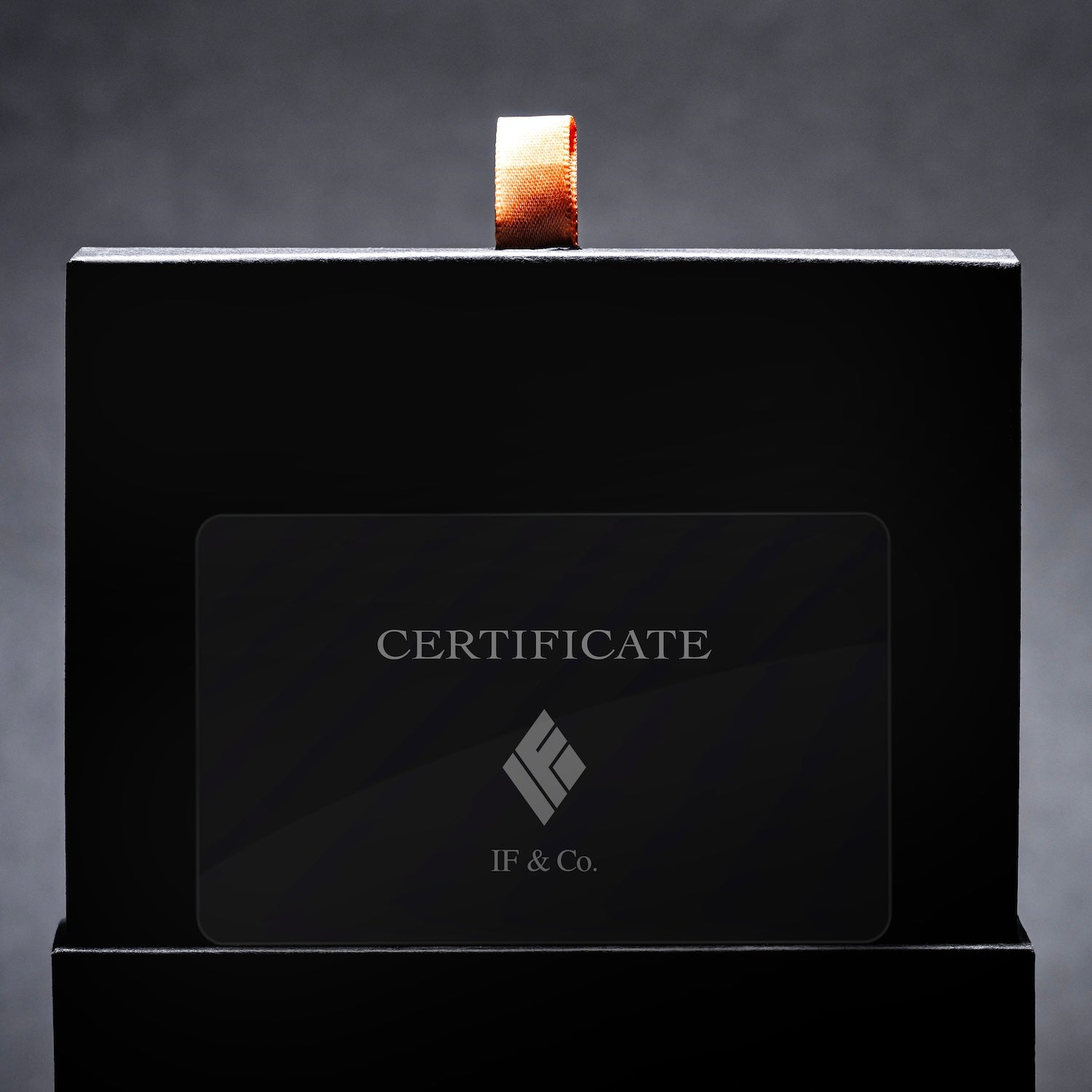 VERIFIABLE EXCELLENCE
INCLUDED WITH EACH GOLD BAR IS AN OFFICIAL CERTIFICATION CARD, VERIFYING ITS ASSIGNED BAR NUMBER, WORLD-CLASS LEVEL OF PURITY, FINENESS QUALITY AND COMPOSITION.
Limited PAMP x IF & Co. 1oz. Pure Gold Bar (999.9 Fine)
Sale price

$3,000.00
Regular price
(/)
---
PAMP x IF & Co.
Introducing a first-of-its-kind collaboration item by PAMP and IF & Co. for a Limited Series Release of 1-Ounce Pure Gold Bars.
Each PAMP x IF & Co. Limited 1oz. Pure Gold Bar is officially stamped with the IF & Co. hallmark diamond logo and uniquely/individually numbered. Official Certification Card to be included with each Limited 24-Karat 1oz. Gold Bar.
Specifications:

1 Troy Oz. (31.1g)
Purity/Fineness: 999.9 (99.99%)
Individually Numbered out of 500

Official Certificate Card Included
Produced in Switzerland by 

PAMP SA
This is a first edition collaboration item. Limited quantity produced and available.
Limited PAMP x IF & Co. 1oz. Pure Gold Bar (999.9 Fine)
Sale price

$3,000.00
Regular price
Choose options
+++ Why PAMP? +++
Produits Artistiques Metaux Precieux (PAMP)
PAMP SA was founded in 1977 and is a globally industry-leading Swiss company specializing in refining precious metals such as gold, silver, and platinum. For decades, they've set gold industry standards, making them a highly-respected and globally-known in the world of precious metals.
They are also known for:
+ Quality: High purity standards for precious metals.
+ Trust: Widely recognized and accepted by global financial markets.
+ Design: Known for artistic ingots and bars, such as the Lady Fortuna design.
+ Innovation: Pioneers in secure packaging and serialized products for traceability.
+ Certifications: Comply with LBMA (London Bullion Market Association) and other international standards.
+ Market Presence: Globally distributed, making their products easily accessible.
+ AND MORE.