Legacy Piece: Micro Wolf Piece (Diamond Eye)
The wolf is never afraid to explore. Known for mystic howls and adventurous travels in unified packs, the sharp, keen wolf naturally develops close relationships and strong social bonds. They often demonstrate deep affection for their family and are masters of survival. Exhibit an enthusiasm for unification with a gold wolf necklace. Sport a gold wolf necklace and express your true inner-self and remind others who you are. Our Micro Wolf Piece does just that. One gold wolf necklace for yourself, or a gold wolf necklace for every member in your wolf pack. Micro Wolf Piece made in solid gold with a single VS+ diamond set on the eye. Matching chain included. Approximately 1.2" tall.
Our jewelry is crafted with the highest quality of material, aesthetic and craftsmanship available in the industry. We use the finest natural materials available to ensure longevity and beauty for generations to come. Every piece is branded with our Hallmark IF logo to represent true standards in quality and aesthetics.
The presentation can be as important as the gift! All jewelry from IF & Co. comes beautifully placed in our signature gift packaging. Your order will be delivered ready-to-gift to family, friend or a loved one.
All orders are shipped via FedEx. Full insurance is included with every shipment. Signature confirmation will be required upon delivery for the most secure delivery to you.
Considering the nature of our handcrafted jewelry pieces, we still offer a 10 day period on returns. Please fully review and understand our Returns Policy before placing your order.
Have a question about this item? Call us to get in touch with a team member who can assist.
We are available to assist 7 days a week:
MON-SAT: 11AM-8PM
SUNDAYS: 11AM-6PM
General Inquiries: +1(310)975-7677
Customer Reviews
Damien S.

United States
04/16/2021
Custom Ordered Perfection! Ships Fast!
This is an amazing piece down to the detail of the wolf hairs. This immaculate custom ordered piece came in less than a weeks time from the order date which I was very impressed about. With the vs+ diamond eye and the classic IF&Co signature on the back, this quality is by far unmatched. After reading then you should be clicking complete checkout to get you one. Thanks IF&Co.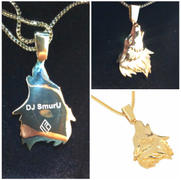 CRISTOPHER T.

United States
09/29/2020
Exactly what I was looking for
Second pendant I have ordered from if&co first one was for the lady two years later still looks great. Had to get myself one it looks great insanely fast shipping overall quality is 10/10. Will eventually upgrade to the partially iced pendant. Will do business with if&co anytime I need quality jewelry at a fair price.