Gold Cuban Link Chain (4.0mm)
Our 4mm Cuban Link Chain crafted in solid 14k gold.  This Gold Cuban Link Chain is finished to a high polish.
Our jewelry is crafted with the highest quality of material, aesthetic and craftsmanship available in the industry. We use the finest natural materials available to ensure longevity and beauty for generations to come. Every piece is branded with our Hallmark IF logo to represent true standards in quality and aesthetics.
The presentation can be as important as the gift! All jewelry from IF & Co. comes beautifully placed in our signature gift packaging. Your order will be delivered ready-to-gift to family, friend or a loved one.
All orders are shipped via FedEx. Full insurance is included with every shipment. Signature confirmation will be required upon delivery for the most secure delivery to you.
Considering the nature of our handcrafted jewelry pieces, we still offer a 10 day period on returns. Please fully review and understand our Returns Policy before placing your order.
Have a question about this item? Call us to get in touch with a team member who can assist.
We are available to assist 7 days a week:
MON-SAT: 11AM-8PM
SUNDAYS: 11AM-6PM
General Inquiries: +1(310)975-7677
Customer Reviews
04/25/2022
Worth the money
At first when I received the chain I immediately wanted to return it. For the price I paid I was expecting what I'm use to seeing on people, a big chain. After really looking at the chain and examining it, I am extremely satisfied. The chain is solid gold. Most people have a big chain but it's hollow and extremely light and most likely for the same price (this chain is heavy, you can feel it's weight). In reality if you look up the price of gold and what it takes to run a successful business and obviously profit because no one works for free, the chain is absolutely worth the price I paid. It looks good on also. Perfect piece
Liam M.

United States
01/09/2022
Beautiful Chain (22 in)
Great color, excellent quality, very happy with this piece.
Justin S.

United States
08/27/2021
My new cuban link is amazing!!
This is actually my first chain and I'm incredibly happy with the quality behind the chain. I came into the store just looking to spend money and just purchased whatever looked coooo, it is now my favorite accessory. Whenever I'm wearing it I make a habit of listening to chain hang low or any other gangster rap song that pairs nice with my new cuban link. I'll definitely be back to pick up some new "ice" for my wrist.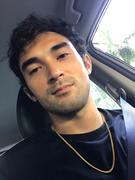 Nicholas M.

United States
11/05/2020
Great chain
As always, great packaging, fast shipping. Quality is on point!
Darryl

United States
04/21/2020
HIGH QUALITY PRODUCT
I am 100% satisfied with my chain, and I would recommend others for future purchases. Delivery was speedy, and the customer support from James made me feel comfortable in my purchase. I was debating on going with a smaller and shorter chain, but I am glad that I sized up to the 4.0MM and 22-inch length so that I can have a great "everyday/every occasion" chain to wear (trust me, you may regret going smaller). Lastly, it's great to support a brand that influences so much of the music and culture of my life.
Loc T.

United States
09/28/2019
Highly recommended
Was my first purchase and definitely won't be my last. In the beginning I had a few questions about the product. I received my answer very quick and promptly. Shipping was also very fast. But overall was the presentation of my purchase. I received it in a study black box that when you opened it had lights. Super cool. I would definitely recommend ifandco to friends and family for their jewelry needs.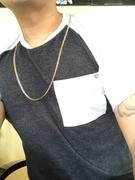 Jake J.

United States
09/26/2019
Great product!
not quite what i was expecting, didn't know the correct length to get, should've gotten 22"-24" but beautiful necklace nonetheless