Micro Jesus Piece (Diamond Eyes)
$1,500.00
$0.00
Our Most Popular Jesus Piece
A stunning favorite from IF & Co., the Micro Jesus Piece with diamond eyes is as timeless as it is contemporary. Crafted at the cutting edge of jewelry design, this piece is a favorite among international collectors, and highlights the very best of artisan craftsmanship and universal style.
Iconic Aesthetics
The Micro Jesus Piece both captures and transcends spiritual imagery with a symbol that is at once stylish yet timeless. Crafted from high quality gold in 10K, 14K, or 18K variations, the piece features a hand detailed asymmetrical design and is hand set with two VS+ quality round cut diamonds for the yes. Tailor the piece to your own unique aesthetics with yellow gold, white gold, or rose gold. Choose from France or Ball style chain variations, in lengths ranging from 20 inches to 28 inches for the ideal fit.
Customize Your Jesus Piece
For those who hope to make an unrivaled visual statement with smart, striking hand-crafted jewelry, the Micro Jesus Piece is the perfect choice. Create the ideal finishing touch with custom engraving, or contact our team to discover how our custom jewelry specialists can create a piece that's truly unique.
Customer Reviews
09/05/2022
Micro Jesus piece
The clarity of the diamonds and quality of the gold went above and beyond my expectations. Can't wait for my next one!
Markim S.

United States
04/14/2022
Fresh
Overall order was cool the pendent is fly too will order again
danny w.

Germany
Shomari B.

United States
Yadir A.

United States
Colorado F.

United States
Colorado F.

United States
08/19/2020
More than expected
Ordered a silver piece years ago. now it's time to upgrade to gold, rose, and white! planning on getting all 3!
Sean W.

United States
07/08/2020
Everything I had imagined!
This is THE Jesus piece, anything else is just a pale imitation. The workmanship, details, finish, and color are unbelievable. The color of gold is so rich it's exactly as the image I've uploaded. The tiny diamonds in the eyes dance and you can see it from a distance, VS+ for sure. High gloss finish is immaculate. The chain fits the size of the pendant perfectly. I thought it may be too thin, but it's actually perfect and feels reassuring. The lobster clasp closes firmly with good action, jump ring is soldered as it should be. Delivery was fast. Quality is not cheap, this is worth every dollar.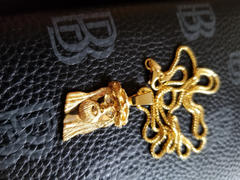 Ramon H.

United States
06/24/2020
you mfr's
you mfr's are the best! The craftsmanship, the customer service! second to none!
Monty C.

United States