Micro Dax Diamond Cluster Earrings
$1,425.00
$0.00
The Dax diamond cluster earrings are perfect for everyday wear. Designed to hold an exceptional balance of casual and brilliant style combinations, the Dax diamond cluster earring is like no other. Prong set cluster diamond earrings, set on yellow, white, and rose gold options. Held by classic posts with secured screw-backs for safety. Total carat weight about 1.20 carat. Diameter approximately 8mm wide.
Customer Reviews
Sung Y.
United States
12/16/2020
Better than expected
47 year old single washed up father of 2 young boys. I wanted the 1 carat but out of my reach at the moment and settled for these. Bigger/heavier than expected which is a plus! I'm a fan of baller pod and now a fan of "IF CO" I'll see you next year for the 1 carat or a bracelet!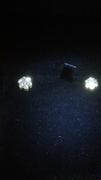 Kareem J.
United States
08/07/2020
Perfection
Perfect very proficient and professional definitely will be shopping again!
ira w.
United States
06/26/2020
BEST QUALITY, NOTHING COMPARES!!!!
ive had my cluster earrings for like 4 years, still hitting!!!! great pick up and last the test of time!!!
Hussain N.
United States
05/20/2020
AWESOME
Love my earrings. No complaints at all
Royce T.
United States
01/07/2020
Superb diamond earrings
My shorty was excited and far exceeded my expectations. Pure love, bless.
james m.
United States
01/01/2020
So worth it!
These earings were totally worth it, the stones are great and very very well set. James went above and beyond to help me get them in time for Xmas, a time of year I am sure he had his hands full with much bigger orders. You guys rock!!!
Joseph T.
United States
11/28/2019
Review
Earrings look elegant. Bigger than I expected in a good way. Hopefully my woman is happy with them when she opens them for christmas. Thank you
Kenneth M.
United States
09/28/2019
Micro dax
I like the case they came in with the light attached and i am pleased with my earrings . Very nice earrings as well . I look forward to getting the baby dax one day
Frank Q.
United States
09/28/2019
Diamond clusters
Quick shipping time . Quality on point . Exceeded my expectations , I thought it would have took longer .