Micro Bitcoin Piece (Fully Iced)
$3,000.00
$0.00
Originally introduced to the public in 2008, the Bitcoin has come a long way. The Bitcoin was brought to public light by Satoshi Nakamoto to be a fully transparent, anonymous and decentralized currency system for the world, which has gained much traction and attention to the public today. This diamond Bitcoin necklace is designed for Bitcoin enthusiasts worldwide. Created specifically for believers of the currency Bitcoin, the future of money is at the hands of the people. Here is our version of the original Bitcoin made into a diamond Bitcoin necklace, crafted in the gold color of your choice. This diamond Bitcoin pendant can be the perfect gift for any cryptocurrency enthusiast or awarded to miners in the trade as a token for achieving success within the block chain. Fully iced out with round diamonds. Matching chain included. Total carat weight about 1.50 carats. Total height approximately 1.2" tall. Micro sized.
Customer Reviews
William L.

United States
10/14/2021
To the moon!
Exceptional piece that shines so much its blinding! Was glad I went with the VS+ diamonds as it exceeded all expectations. Not only that, I had several requests and questions and all were executed and answered. The brand definitely lived up to the quality, will be back for more. Thank you so much
Mikael H.

Norway
03/05/2021
My little Bitcoin beauty
Just got this beauty, I'm very happy with it! I'm amazed of how fast the shipping was, it took 6 working days and I live all the way overseas. My favorite part of the necklace is how the piece just absolutely blinds people with the shine! The chain itself shines really bright too, almost as much as the diamonds. I'm very satisfied, and I'm definitely gonna buy larger chains like a cuban link from these guys later this year or next year. Bitcoin to $1 million!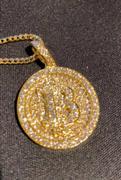 Michael A.

United States
06/11/2020
Stacking Sats in Style
Have had my necklace for over a month now and I love it. Bought as a gift for the Halving. Super good quality, looks amazing - don't usually leave reviews but I felt like I had to for this piece Lots of respect!