Solitaire Diamond Stud Earrings (0.70 Carat Total)
$2,400.00
$0.00
A staple style of diamond stud earrings since the discovery of the brilliant cut diamond. One can never go wrong with a simple pair of solitaire diamond earrings. Two round VS+ or VVS+ grade diamonds at 35-pointers each, perfect for a lady or a baby. Secured by screw gold posts. Total carat weight 0.70 carat. GIA Certified. Excellent Cut, Symmetry and Polish. 
Customer Reviews
07/12/2022
Amazing Quality & Details
I loved the diamonds thenselves, and the details and craftsmanship done throughout the pieces. Completely happy with my purchase.
Mario S.

United States
11/13/2021
Earring
Exceptional quality-
Paul L.

United States
09/22/2021
Solid Studs
I purchased these in 18K white gold with vvs diamonds and they're honestly my new favorite earrings. They're just the perfect size that isn't too much for an average person to wear in public. In addition, what's also good is that it comes with a GIA certification. This is currently my 2nd purchase from IF & CO and thus far— the quality of their products has been superb.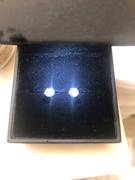 Eric J.

United States
02/16/2021
Great service
Great experience no issues was very detailed in what I wanted. A very prompt delivery time although it was during the pandemic.
Dj M.

United States
12/13/2020
Quality, Quality, Quality!
This is my first time spending this amount on diamonds and I must say I am proud of how far I have came when I see these for her. I'll be doing way more business with you guys and I wanted to get her something that is larger in size but I understand that you can't compare CZ to this at all. That is kids cuisine compared to Milos in Miami. Anyway, I love this and I will return. BEN BALLER AND IFCO I THANK YOU FOR YOUR SKILL AND ATTENTION TO DETAIL